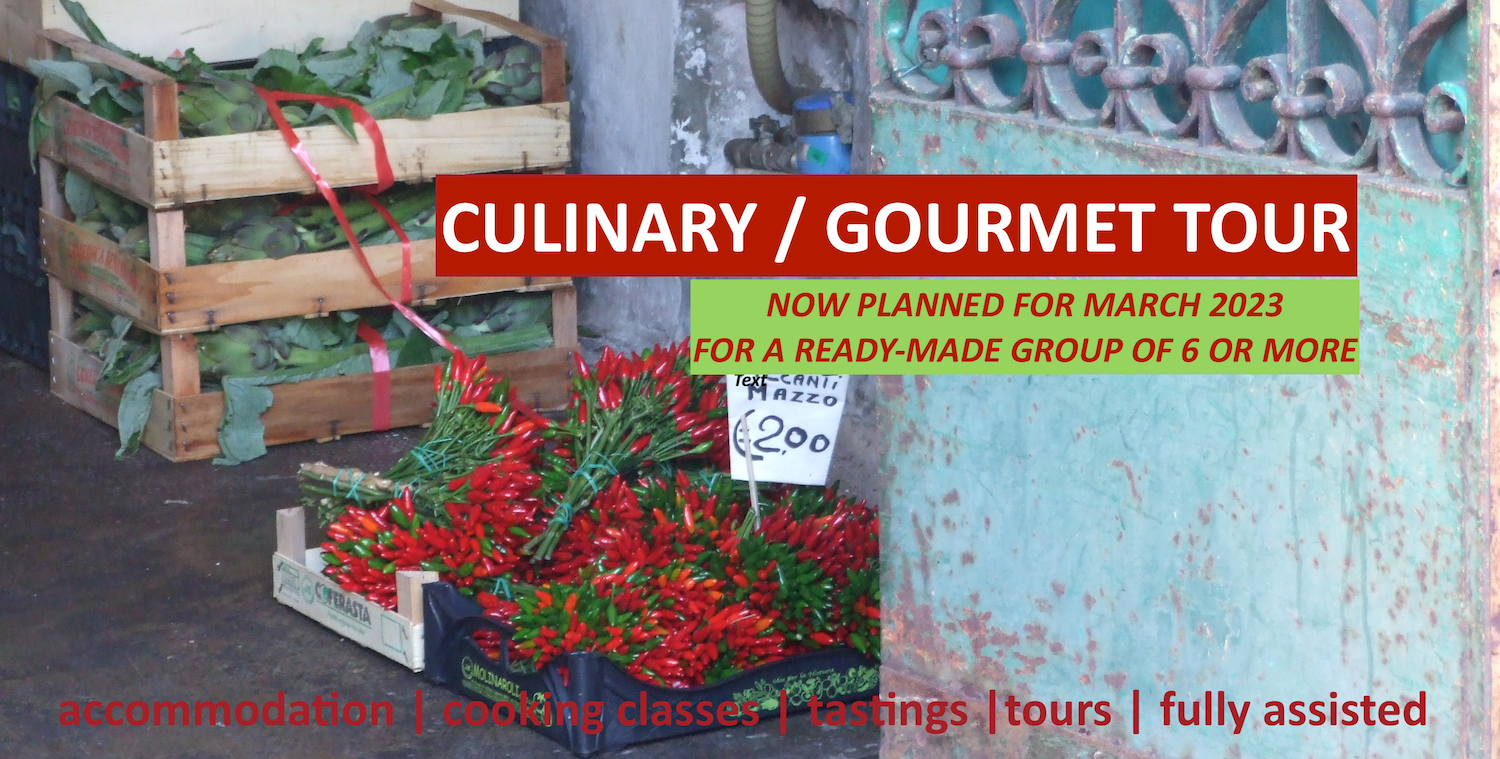 Orvieto (Umbria) - Venice - Naples - Rome
This is a fabulous, fully escorted, small group tour offering an amazing array of experiences from hands-on cooking classes by professionals, tastings of local produce and wine while meeting the producers, hunting for those magical black truffles, guided walks and talks, and visits to special places - and so much more. Your tour host will guide you through all phases of this experience and introduce you to all venues, beginning in the stunning Etruscan/Medieval town of Orvieto with excursions into the nearby countryside, to the most beloved city of Venice, onto the mesmerising metropolis of Naples with a day trip tp the Phlaegrean Fields, finishing in the ever-eterna that is Rome.
WHERE

ITALY: Orvieto (4 nights), Venice (4 nights), Naples (3 nights), Rome (2 nights)

WHEN

Provides 13 nights accommodation, beginning in Orvieto 16th March / finishing in Rome 29th March 2023

INCLUSIONS

All accommodation as twin share (a unique mix of religious houses and local hotels), all breakfasts, 10 dinners, 6 lunches (some as part of cooking classes or tasting experiences), 3 hands-on cooking classes, all listed entries, local transport/transfers between cities, private guide/fully escorted, 24/7 bilingual assistance, a truffle hunt in the  Umbrian countryside amongst many other fabulous inclusions

COSTS

POA includes land costs only with guides, accommodation, meals, classes, visits etc. Airfares/insurances/arrival to Orvieto and departure from Rome are not included but may be provided individually, on request. Single supplement may be available.

OPTIONAL EXTRAS

Some options are provided for the Sunday in Rome that may be decided on booking. Pre/Post tour accommodation & programming may also be added.

Program Itinerary - in Brief

Day 1: Program begins in Orvieto with a guided orientation walk. Lunch and introduction to local produce. Time to settle in then Dinner together.

 Day 2: Early morning truffle hunt followed by breakfast. Then free time until our guided afternoon walks discovering this amazing Medieval city on the rock. Dinner together.

Day 3: Bus transfer to cooking class/winery tour – Umbrian cuisine. Lunch includes what was made in the class. Then a walk in Montefalco before returning to Orvieto. Evening free.

Day 4: Visit to the local fresh-food market. Lunch at a local oil producer, tasting their products. Later afternoon cooking class – chocolate & torte – in one of the oldest Pasticceria in Orvieto. Includes Dinner and a visit to their private caves.

Day 5: Early morning train transfer to Venice. Guided walk with visit to San Marco Basilica, finishing the day with a gondola ride before Dinner together.

Day 6: Morning guided visit to the Rialto Market, followed by a cicchetti & wine (Lunch) walk, continuing our walks in Venice including a visit to the P. Contorini di Bovolo. Dinner together.

Day 7: Guided visit to the Doge's Palace "Secret Itineraries" tour. Rest of this day is free to explore this amazing city on the water – with help & guidance as needed.

Day 8: Morning to the Northern Lagoon islands and the colourful houses of Burano, the ancient settlement of Torcello and the "glass" island of Murano. Dinner together.

Day 9: Early train to Naples. Orientation/guided walk then Dinner together.

Day 10: Guided street food walk through Naples, meeting the producers and sampling all as we go (Lunch). Takes most of the day. This evening is free time.

Day 11: Morning tour to the ancient Phlaegrean Fields with some amazing visits & views. Lunch together at a small agriturismo/winery. Return to Naples to rest a little before heading out to our pizza cooking class and Dinner – pizza of course!!

Day 12: Morning is free time before our afternoon train to Rome. Orientation walk and Dinner together.

Day 13: Early morning visit to the fresh-food market of Campo di Fiori. Free afternoon for relaxed wanderings OR optional guided or assisted visits as decided by the group. Farewell Dinner together.

Day 14: Journey finishes after breakfast this morning with individual departures as arranged.

 

     
For further information or to inquire about joining this programme in 2020,

send a request directly to: This email address is being protected from spambots. You need JavaScript enabled to view it.
BOOKINGS WILL BE CLOSED AT MID-NOVEMBER - LIMITED AVAILABLE PLACES - ASK NOW OR,
COME WITH A READY-MADE GROUP OF 6 AND SUGGEST SOME DATES BETTER SUITED TO YOUR GROUP
PLEASE NOTE: all programmes remain the property of La Cultura d'Italia P.L. (trading as Discovering Italy) and must not be copied or used for any other person(s) or purpose.