This is such a serious issue for our beloved Venice that we have decided to dedicate a space here to keep all the updates on the battles as they are played out. We hope you find it informative. 
The battle lines have been drawn by the "No Nav" against the Big Ships in Marghera.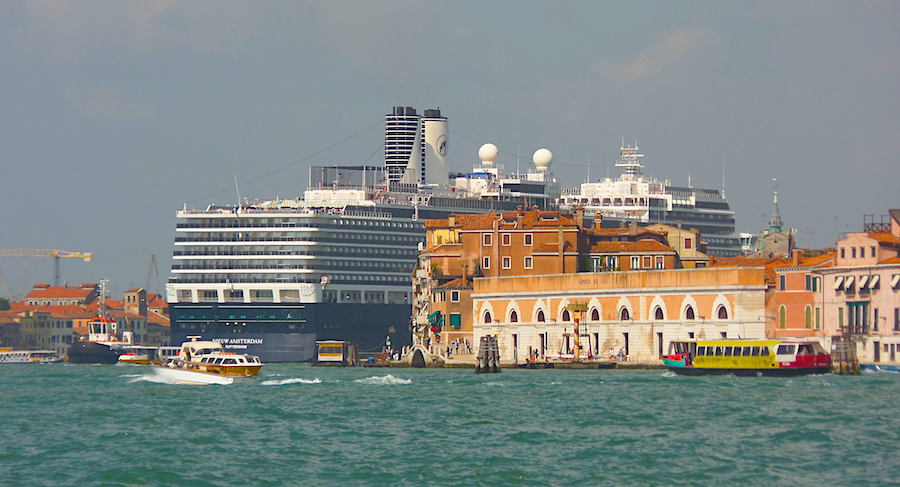 With the choice of the Vittorio Emanuale canal project, large ships will continue to transit in the San Marco basin for a long time. The "No Grandi Navi" committee sharpens its weapons in readiness for the next round of meetings in Rome where the government is meant to reveal the road map that should lead the cruises away from the Giudecca Canal, with transit through Vittorio Emanuele to arrive at the Marittima. In the case of larger vessels, two ad hoc structures will be set up in an industrial area, on the side of the Canale dei Petroli del Vega. The committee say, "this is done on the basis of an undisclosed, secreted documentation, whose contents are not known nor the criteria adopted to compare projects with different levels of definition, drawn up by a technical apparatus without credibility and reliability, that the Port Authority refused to make public ".
 The Vittorio Emanuele proposal has been rejected before by activists, who have always preferred the "Duferco-De Piccoli" project which would see construction of pontoon-type docks outside the mouth of the lagoon. Promoters of this solution announced a possible appeal saying, there are numerous critical elements to consider such as, the "negative impact on morphodynamics and lagoon hydrodynamics, displacement, excavations, landfills, traffic mixtures with drastic penalisation of commercial traffic, nautical accessibility, works of Mose at the mouth of Malamocco, risk of major accident." And so the battle continues with no real agreement in sight. Watch this space . . .
SOURCE: This is part of an older article, translated and interpreted by DI, from "Venezia Today," 05 November 2017 but we will continue to add commentaries as this sad saga continues to unfold.